Not A Tourist Guide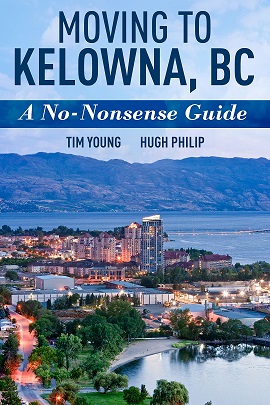 Tim Young and Hugh Philip are two enthusiastic, but realistic, long-time Kelowna residents who have gathered research from hundreds of reliable sources to create this one-of-a-kind . . . no-nonsense guide. There is no other single source of information that tackles the questions on the minds of potential newcomers. Unbiased Answers to these and many more important questions:
Is it true that Kelowna has a Sunshine Tax
Will I be able to find a job?
Will my family be safe?
Is the weather really as good as they say?
Give me a break, what are the challenges to living in Kelowna?
Is there available and affordable daycare for my children?
How does the housing market compare to other cities in Canada?
Is Kelowna business friendly?
What are 'the' best things to do for fun in the area?
Bonus! Each book is a coupon for a minimum 10% discount from trusted Kelowna businesses.
$2.00 from each book sold is donated to the Central Okanagan Food Bank.
This 6" x 9" soft-cover book includes 218 pages; 40 chapters; and 86 tables and illustrations.
Order online from www.movingtokelowna.net ($14.95) or Amazon.ca. Also sold at Kelowna bookstores and many other local retailers.