PRESS RELEASE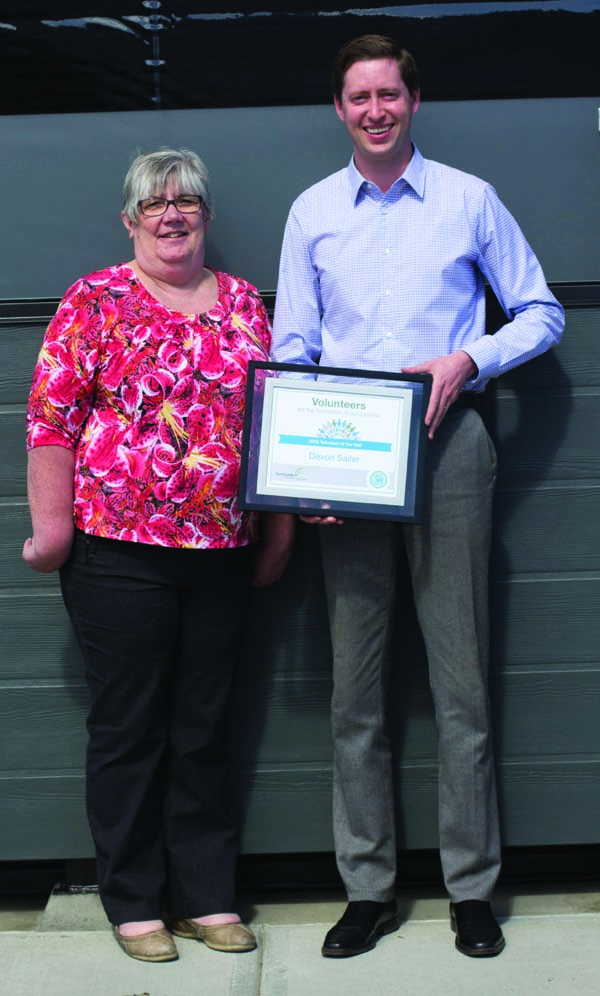 Community Futures Central Okanagan Past Chairperson Barbra Johnston presents Devon Sailer with the volunteer award.
For Immediate Release April 11, 2016
Community Futures recognizes 2016 Volunteer of the Year
From April 10 to 16, Volunteer Canada and Community Futures Central Okanagan are celebrating Canada's 12.7 million volunteers during National Volunteer Week. This year marks the 13th year Volunteer Canada has delivered the campaign in partnership with Investors Group, a longstanding supporter of National Volunteer Week.
The Community Futures 2016 Volunteer of the Year is Devon Sailer. Community Futures Central Okanagan wishes to recognize Devon because he has actively volunteered and participated at Community Futures on the Youth Means Business Advisory Committee, Entrepreneurship Committee, Loan Committee and Board of Directors. In 2015, Devon was elected to be Chairperson. Devon's rise to the top of the Community Futures in Central Okanagan can be attributed to his keen personality, business analysis ability, exceptional business knowledge and dedication to the organization.
Community Futures is a small business development organization – based in the community and for the community. We offer local assistance from experts who live in the same communities as our clients, and have 34 offices throughout rural BC. Our wide variety of services and tools are designed to help entrepreneurs and small business owners achieve their goals through business planning advice and loans and self-employment assistance. Community Futures provides financing alternatives to small and medium enterprises when access to credit is a challenge to starting or growing their business. To learn more or find an office near you, visit CommunityFutures.ca.
For more information, please contact:

Larry Widmer, General Manager
Ph. 250-868-2132 ext. 223
Email: This email address is being protected from spambots. You need JavaScript enabled to view it.